In this article, we'll introduce you to Andi, your personal analyst built into PrecisionLender.
Who is Andi?
Andi is the product of machine learning and artificial intelligence work, and she's your ideal lending analyst built into PrecisionLender. She works on thousands of deals each day with bankers like you using PrecisionLender, and she learns as you interact with her. Andi's goal is to use the information in PrecisionLender to give you insights that will drive pricing decisions that are more profitable, less risky, and focused on delivering the customized service that your clients need. As Andi becomes a better analyst, she applies her knowledge to help you win more deals that work for both the borrower and the bank.
What are machine learning and artificial intelligence?
Machine learning and artificial intelligence, which are also commonly called augmented intelligence and AI, refer to technology that uses data to make recommendations or anticipate actions. Andi will use machine learning to leverage the vast amounts of data that PrecisionLender has about how loans are priced and how relationships evolve to give you actionable, valuable information to help you better serve your clients.
For more information on the role of AI and machine learning in banking, check out our Resource Center!
Will Andi change how I use PrecisionLender?
Andi builds on PrecisionLender's ability to help you make deals work by recommending ways to improve profitability or mitigate certain risks, and she'll become more helpful to you over time as she keeps learning.
Andi gives specific information that will make the biggest impact as you're pricing deals by using Andi Skills – an "off the shelf" set of skills built by PrecisionLender that powers Andi's suggestions on how to meet your targets. Andi Skills drive Andi's ability to work with you as you price each Opportunity, showing you how to make the deal work, recommending other structures, and even identifying and highlighting opportunities to expand a relationship. In the future, you'll be able to add, remove, modify, and extend any Andi skill to make sure that Andi understands your specific needs and helps you in the right ways. You can also ask Andi questions and she'll search for relevant articles from our Knowledge Base to find you the best answers.
With Andi stepping into the spotlight, you may notice differences in the way PrecisionLender looks and feels. For example, if you've priced Opportunities in PrecisionLender before, you know that PrecisionLender used colored dots to indicate recommendations on structuring deals. Andi has now taken the lead on powering your pricing decisions and uses colored bars instead of dots to show you her suggestions or alerts.
Green bars let you know that Andi has suggestions or ideas to help you achieve your Target ROE
Blue bars indicate that Andi has additional information for you
Orange bars mean that Andi has a warning or a concern
Red bars mean that Andi has found an invalid entry, such as a letter in a field that only accepts numbers
Once you've asked Andi a question, purple bars let you know that Andi has searched our Knowledge Base for articles relevant to your question
PrecisionLender's recommendations on deal terms used to show up at the bottom of the Opportunity Screen. Andi's recommendations have been shifted up and you can see them by clicking Andi's logo (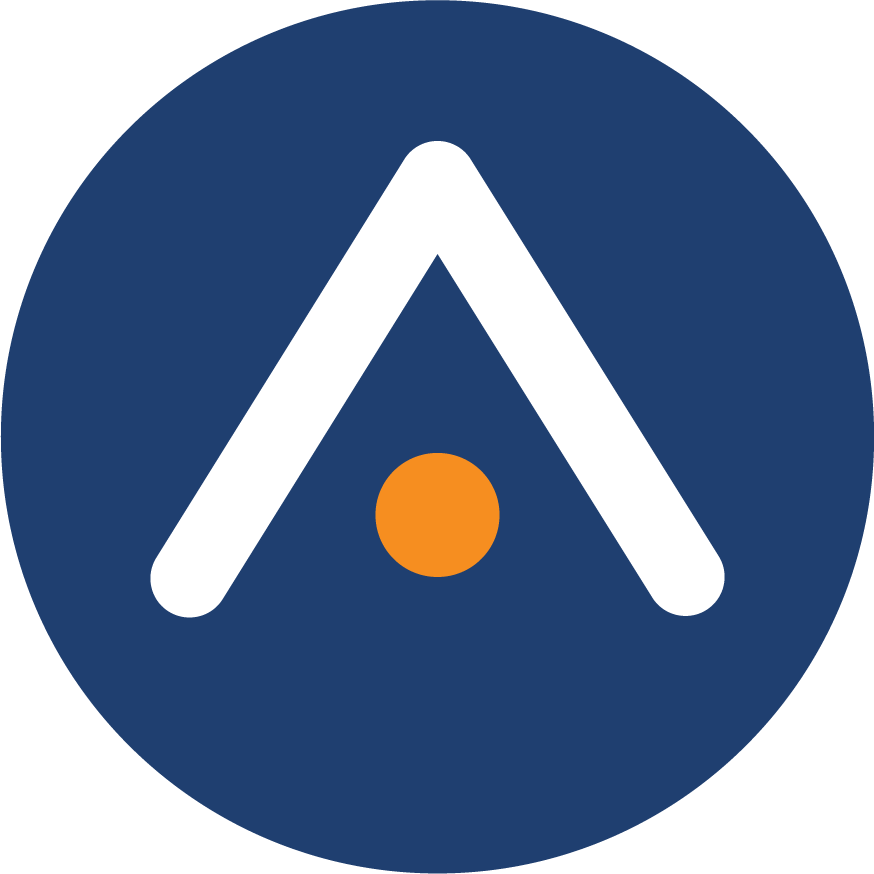 ) on the Opportunity Screen. Andi's recommendations sound more like a conversation than PrecisionLender's recommendations did before, so Andi offers suggestions like "things to consider" or "ways to reach the target."
How do I find Andi's recommendations or ask her a question?
Andi lives on the Opportunity Screen in PrecisionLender. Click in a field where you see colored bars on the Opportunity Screen to show Andi's suggestions for that specific item.
Click Andi's logo (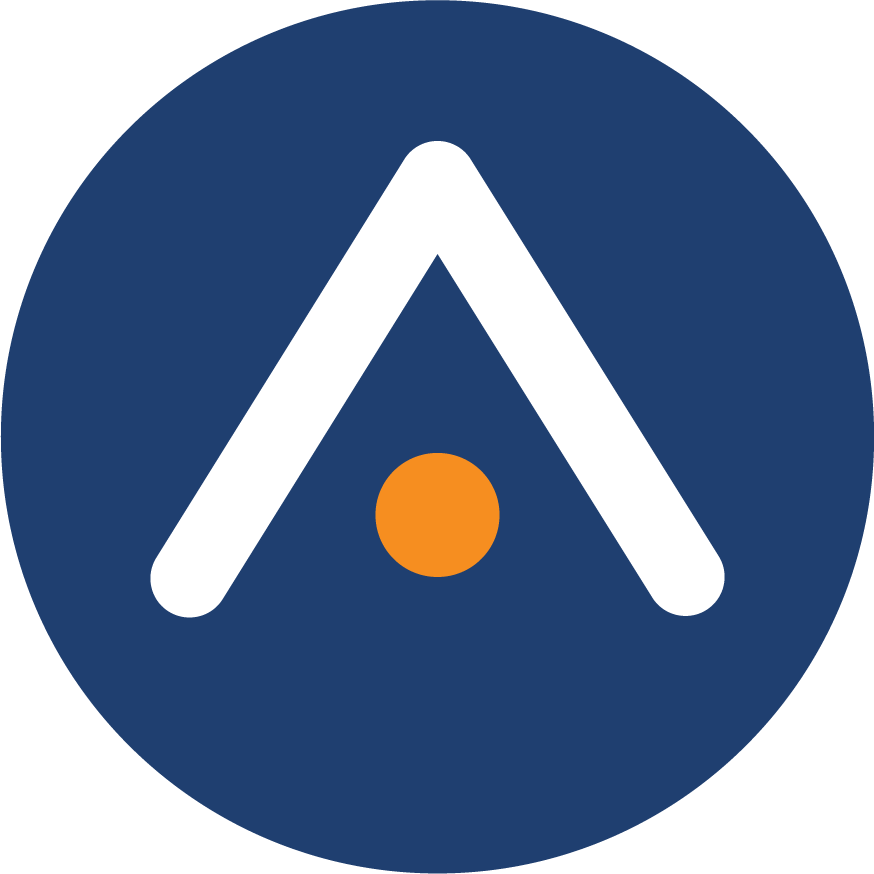 ) in the lower part of the Opportunity Screen to bring Andi's recommendations on deals onscreen. You can then type a question in the "Ask Andi" box and press Ok to have Andi search for relevant articles from our Knowledge Base.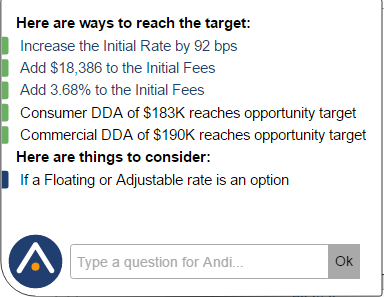 After Andi answers your question, you can let her know if her answers are helpful, which will help Andi learn and become a better analyst.
What do the colored bars around Andi's logo mean?
Andi shows colored bars around her logo when she has suggestions for you – just click Andi's logo (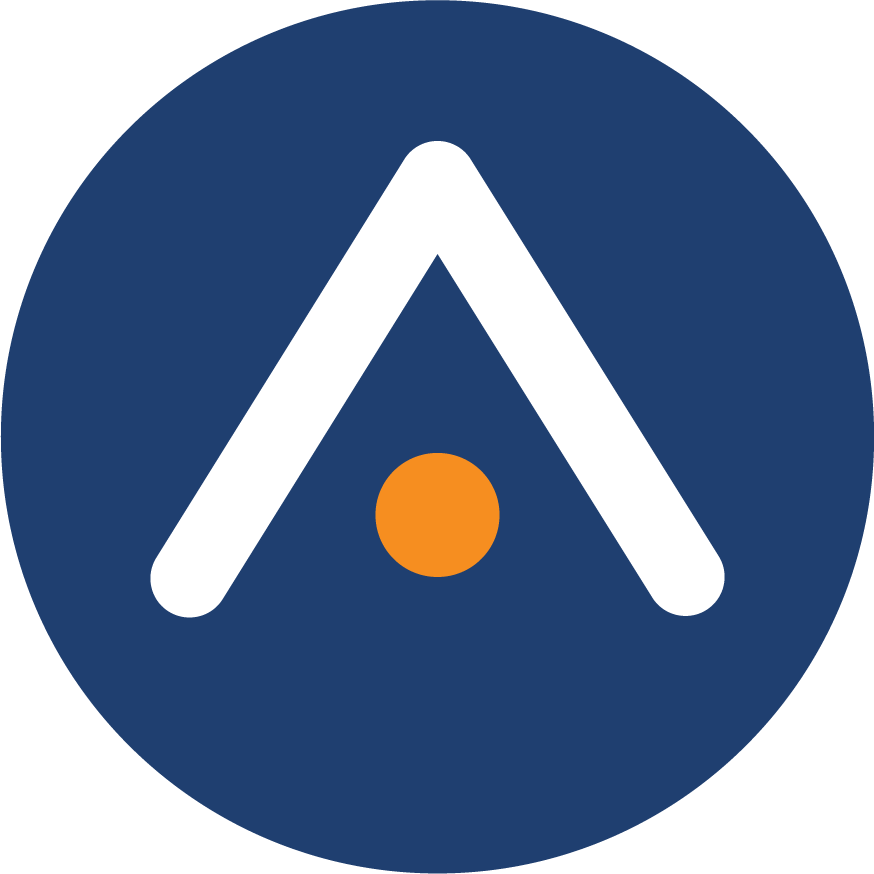 ) to bring her recommendations onscreen.
When you see a loading icon rotate around Andi's logo, it means that Andi is thinking – she is searching for suggestions on your deal terms or for an answer to a question that you've asked her.
Do I have to teach Andi? How will Andi change over time?
Andi learns the more that she works with you. You don't need to actively teach Andi, but giving her feedback on her answers will help her learn to give you better answers. If there is something specific that you'd like Andi to know or do, please reach out to our Support team at support@precisionlender.com or 1-877-506-2744.
What kinds of questions can Andi answer?
Right now, Andi is focused on searching our Knowledge Base for the best answers to your questions about using PrecisionLender. Because Andi can search for lots of different information, asking her questions in complete sentences (instead of using just one or two words) will help her find you better answers. If Andi can't find exactly what you're looking for, she can reach out to our Support team for backup.
What will happen to my custom profitability rules in PrecisionLender?
If you've worked with our developers or consultants to create custom profitability rules, those rules will work the same way that they always have and will become part of custom Andi Skills. Andi will show your custom Andi Skills in the same place that she shows her other recommendations, or in the same place that your custom profitability rules were displayed before.
I have another question.
Excellent! Please reach out to our Support team at support@precisionlender.com or 1-877-506-2744 and we'll be happy to help.
I wish Andi had this (fill in the blank) skill.
Great idea! Please contact our Support team at support@precisionlender.com or 1-877-506-2744 and we'll make sure that Andi brushes up on her skill set so she can deliver exactly what you need.
I'd like to know more about Andi.
If you want to learn more, watch Carl Ryden, CEO at PrecisionLender, discuss Andi's background and her future.