Related Articles
Overview
In order to use the PrecisionLender API at least one Service User account will need to be setup and enabled.  Service User accounts add an additional layer of security and provide a more reliable audit trail.
Requirements
PrecisionLender user with Manage Users and Manage Access rights
Service User API access enabled by PrecisionLender
Getting Started
There are two steps involved to setup Service User Accounts:
Step 1: Enable a PrecisionLender user to setup the Service Accounts
In the Administration section a user with Manage Access rights will need to add the Manage API Access right to a new or existing Security Profile for users that can create Service User Accounts. 

Step 2: Set up the Service User Account
In the Administration Section a user with the Manage API Access right will need to setup a new Service User account.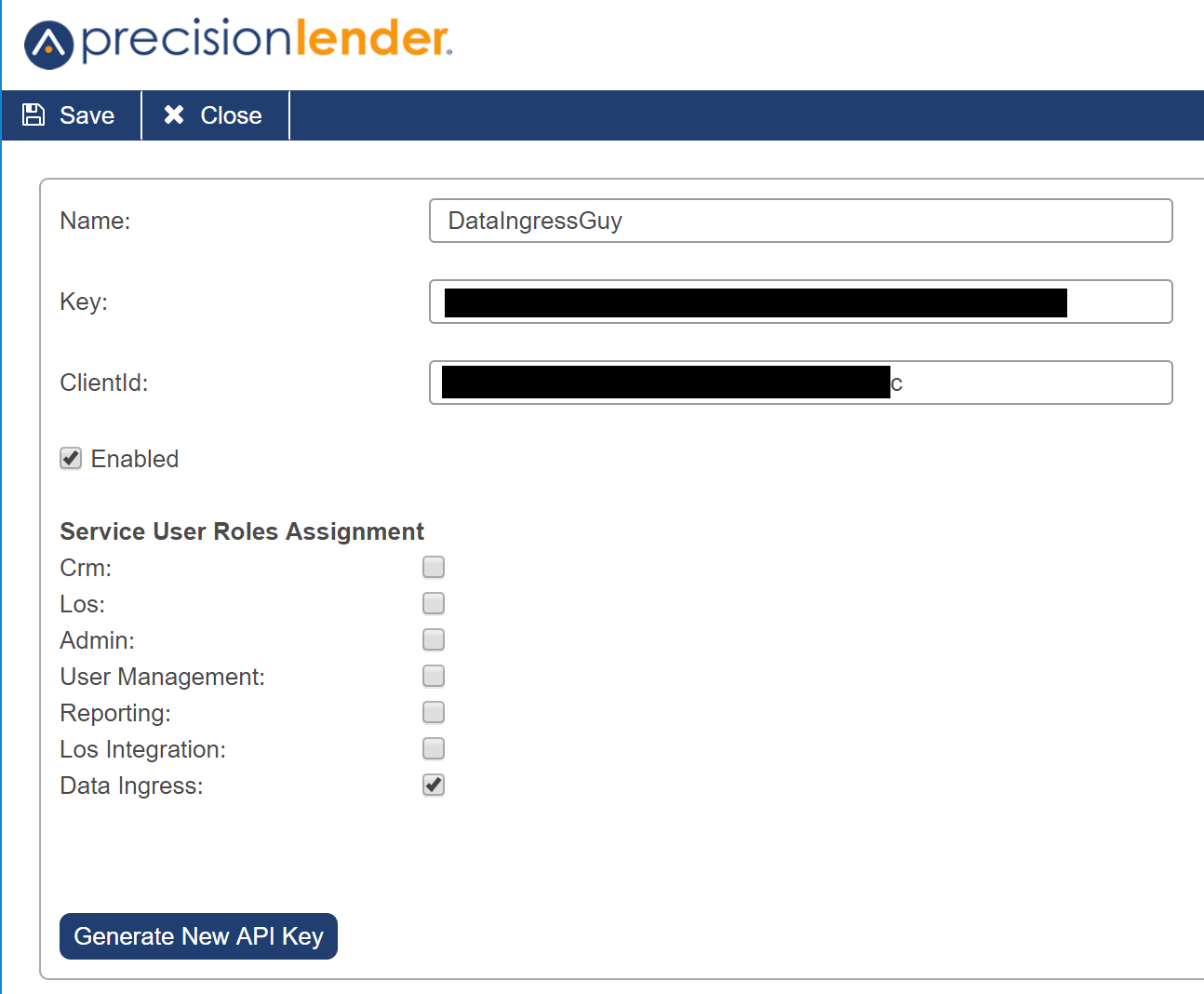 Service User Account Fields
Name

Name required for all API calls

Key

Key required for all API calls
Unique to each Service User account

Client ID

Required for all API calls
PrecisionLender assigned identifier for your bank

Enabled

Service User can be disabled by unchecking this box
Service Users cannot be deleted, only disabled

Service User Roles Assignment 

Service Users can have multiple roles (Ex. Admin, User Management or Reporting)
Note: It is recommended to create separate Service Users for critical use cases such as Data Ingress, CRM Integration or LOS Integration roles to prevent confusion or downtime if keys get removed or regenerated. 
Next Steps
If you would like to use the PrecisionLender API, please contact us by submitting a support request with "API Access Request" as the subject line. From there the PrecisionLender Integrations team will be in touch to enable access and help you get started.