What is the PrecisionLender Learning Center?
The PrecisionLender Learning Center is an online, managed environment where users can learn how to maximize their use of PrecisionLender.
Overview Video
How do I access the Learning Center?
Once you are logged into PrecisionLender, click the Help link near the upper right of the screen which will open up the Help dialog box. If the Learning Center has been enabled for your bank, you will see the Learning Center icon shown below. Clicking on the icon will open a new tab in your browser and automatically log you in to the Learning Center to see the courses to which you have access.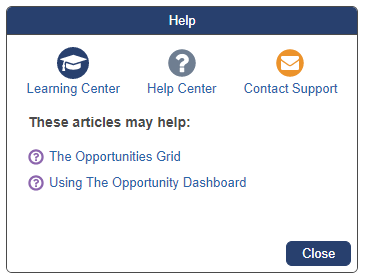 If you click the Learning Center button and a new tab does not open please review the article "Enable Pop-ups in your browser".
How do I enable the Learning Center for our bank?
If the Learning Center is not yet enabled for your bank, you will not see the Learning Center button. To enable it please reach out to your Client Success Manager or contact Support.