Purpose
The Similar Loan Andi skill is available as part of the Portfolio Insights product. This skill provides relationship managers with real-time, in-the-moment pricing insights, showing characteristics of the 10 most similar loans to the loan being priced at any given time.
Andi Skill Behavior
If there are available similar loans Andi will send you a message in the Andi window telling you how many loans are available.

After clicking this message Andi will switch to the chat screen and provide a download link for the csv file. Clicking this link automatically downloads the results.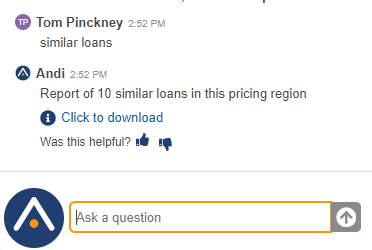 If at any point you do not see a similar loans field tag but want to check for similar loans you can also just type the phrase "similar loans" into the chat window. If Andi cannot find any similar loans she will send a message explaining the reason why.