Overview
PrecisionLender gives you the power to structure a loan, and calculates the returns for you. The footer section of the Opportunity Screen shows you where your Opportunity stands compared to your targets and make it easy to keep track of your relationship's performance whilst pricing an Opportunity.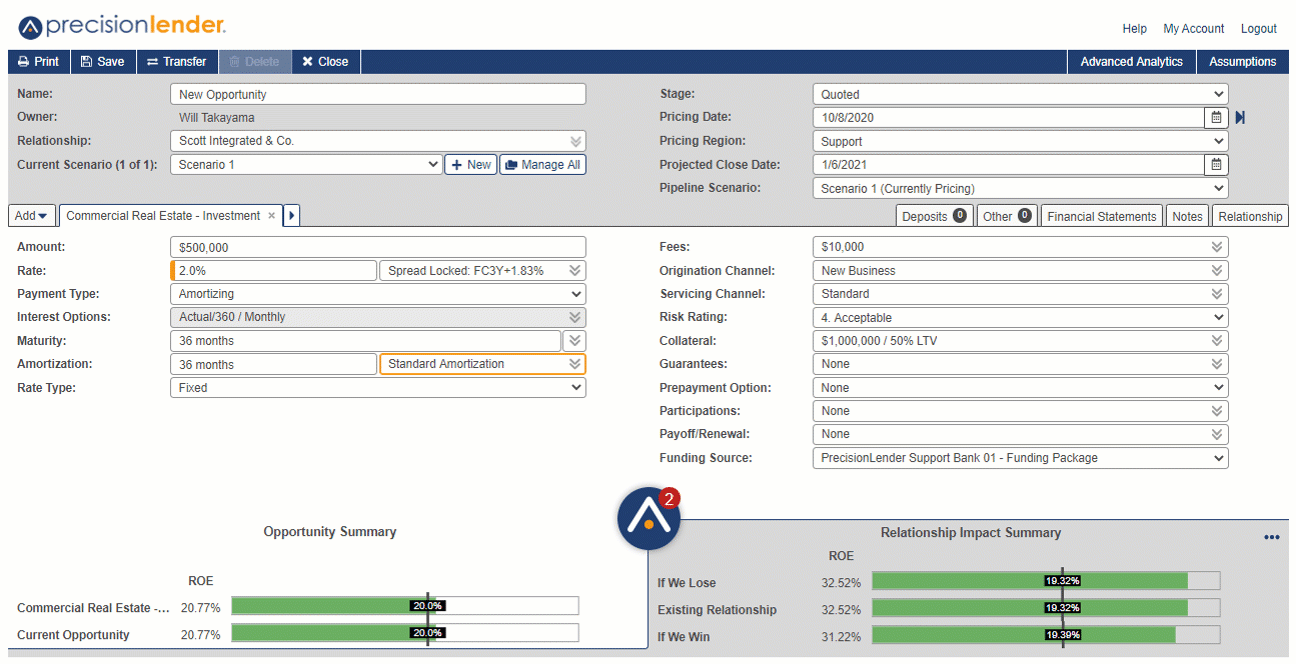 In this Article
Andi®
Andi® builds on PrecisionLender's ability to help you make deals work by recommending ways to improve profitability or mitigate certain risks, and she'll become more helpful to you over time as she keeps learning. Check out our Meet Andi® article to see how Andi® can help you price better deals.
Opportunity Summary
The Opportunity Summary is a representation of the target defined by your bank and the Opportunity's returns. You can change the type of returns (if your bank has more than one available) you want to see, and toggle between Chart and Table view.
Note
Both bars will be identical if you only have one product in the Opportunity.
Top Bar

Shows the returns for the specific product you're pricing. If your Opportunity has multiple products (more than one loan, Deposits, or Fee-based products) the Top Bar

will change depending on which product tab you're on.

Bottom Bar

If your Opportunity has multiple products the Bottom Bar will show the weighted returns for the overall Opportunity. If your Opportunity has only one product, this will be identical to the Top Bar.

Target Line

The black lines and percentages in the chart reflect the target returns or net income pre-determined by your bank.
Relationship Impact Summary
If a relationship has been attached to the opportunity, the Relationship Impact Summary shows how the Opportunity you're pricing will impact the value of your existing relationship (see Understanding Relationship Impact). If a relationship is not attached to the Opportunity, this portion of the footer will be empty.
If We Lose

Shows what will happen to the relationship if you lose this Opportunity to a competitor. This value is adjusted when existing accounts are marked At Risk on the Relationship Impact Tab, otherwise this value will be identical to the Existing Relationship value. 

There are situations where this value can actually be higher than your Existing Relationship value or your If We Win value. Examples of when this can occur are: when using Payoffs and reducing the rate on an existing account or when marking an account that is a net cost to your bank as At Risk.

Existing Relationship

This is where you'll see your baseline of where the relationship is today without factoring in the Opportunity at all.

If We Win

Shows what the relationship would look like if you win the Opportunity and keep existing accounts that are not being renewed or paid off.

Menu

The ellipsis icon on the top-right corner gives the options to choose between the views for:

Net Income and Return on Assets or Equity
Chart or Table
Related Articles