What is a Scenario?
Each Scenario represents a distinct pricing scenario that has been created in PrecisionLender.  Each Opportunity is made up of one or more Scenarios.  
There are two main types of Scenarios:
Alternative Scenario - this represents an alternative presented to the borrower.  For example, a "Fixed Rate, no Fee" scenario or a "Floating Rate with $50,000 in Deposits" scenario.  
Competitive Scenario - this represents a deal that is being offered to the borrower by a competitor.  This allows a lender to see "what if we matched the competition?" as a Scenario and capture the competitor's name as well.
What is a Pipeline Scenario?
The Pipeline Scenario is the Scenario you think is most likely to occur and shows up in the Pipeline on the Opportunity Dashboard.  Only one Scenario within an Opportunity will show up on the Opportunity Dashboard. By default, the first Scenario created within an Opportunity will be set as the "Pipeline" Scenario, but this can be changed by simply checking the "Include in Pipeline" check-box next to the desired Scenario.
Managing Scenarios
To save a Scenario, price an opportunity and click the camera icon in the header. That will save your current Scenario, or potential loan.

Once the first Scenario is saved, you can price the next Scenario and click the camera icon again to save your second Scenario. You can repeat this process for as many Scenarios as you'd like. You can compare them by clicking the Current Scenario field.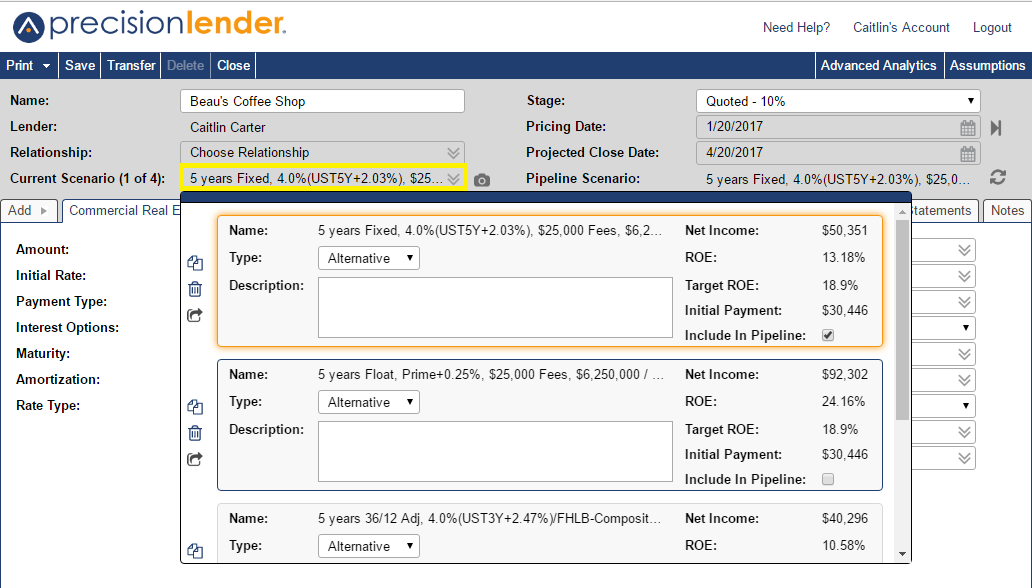 This pop-up shows all of your Scenarios for this Opportunity. This view allows you to easily compare Net Income, ROE, Initial Payments, Collateral, Fees, and Interest Rate. Checking the "Include in Pipeline" box will allow you to select the Scenario you want to include in the pipeline for this Opportunity. You can also select what type of Scenario this is; either Alternative or Competitive. Selecting Competitive allows you to input the name of your Competitor.

Icons
- Copy Icon - allows you to copy the selected Scenario.
 - Trashcan Icon - allows you to delete the selected Scenario.
- Share I

con - allows you to share the selected Scenario. Clicking it will give you two options.

Copy the Scenario Link

Select Copy Scenario Link for pasting this link into an email, document, or system

Email the Scenario Link

Selecting Email Scenario Link will allow you to easily share the link via email and will use your native email client. 
Printouts
When you print this Opportunity with both the Full Opportunity and Executive Summary printouts, you can view all the Scenarios linked to it by looking at the Scenario Details section of the report. Your Pipeline Scenario will say "(Pipeline)" under Type.

You can also print a Borrower Summary Printout if it has been enabled by your Administrator. This is designed for you to give to the borrower, and allows them to compare the Scenarios you've discussed.