We welcome all our customers to submit ideas for enhancing PrecisionLender. Please use the link below to submit your idea to our Feature Request forum.  Our development process includes a bi-weekly review of these requests in an effort to make PrecisionLender a better tool.
I have a great idea for PrecisionLender!
Excellent.  We appreciate your feedback and use it to help drive our development. In order to make things easier to review and discuss, we ask a few things:
Please search the feature requests section within the Community first for relevant feature requests. If you find something similar, vote on the post or add a comment about how you would benefit from such an addition to PrecisionLender. Posts with more votes and comments have a greater impact than multiple posts about the same topic.
If you are unable to find a similar existing feature request, please make a new post explaining your idea as clearly as you can.  Simply writing, "More control over Opportunities" leaves a lot to the imagination. We are driven by clear, implementable features, so the more precise you are, the better. Some questions to help guide your feature request:

What would this feature address that PrecisionLender does not currently address?
How and why does this make your job easier?
Where would it fit into your PrecisionLender workflow?
Who would this help?  Is this something specific to your bank?  Or something more general?
(requires support center login)
How can I keep track of existing requests?
When you submit a new feature request on our forum, you will be automatically "following" that request.  This means that you will be notified via email of any new comments on that particular request.
If you would like to follow updates for a particular feature request, you can do this (if you are logged in to the support center) by clicking the "Follow" button near the upper right of the page. Similarly, you may also follow an entire section to get updates on all new articles or feature requests.
To see a list of all your requests, reference this support article on viewing your activity.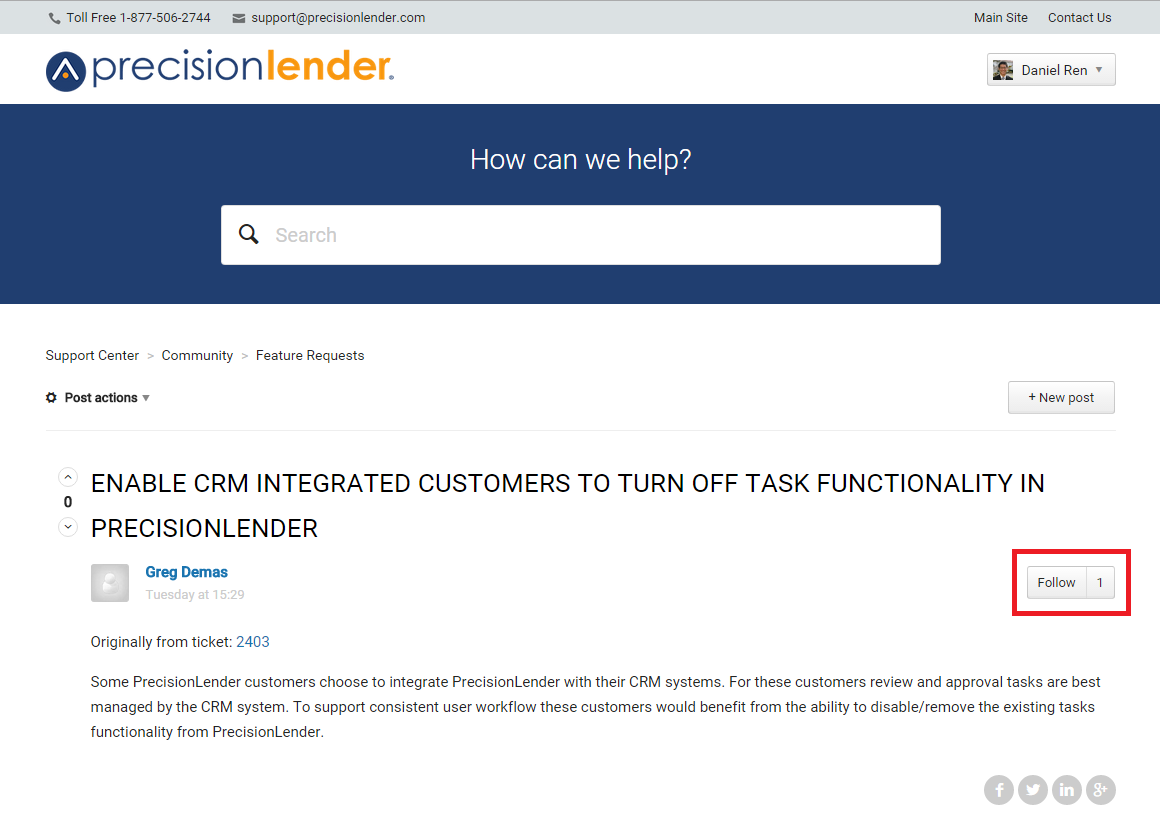 How can I increase the odds of my feature request becoming a reality?
Great Question!  We allow our customers to "Vote" for and discuss feature requests.  This allows us to see which ideas will be helpful the the most users and, thus, prioritize our work.  
To vote for an existing feature request, simply look for the voting links on every feature request article to the left of the idea title (requires support center login).
I see an existing feature request that would help my bank!
Awesome!  This is exactly why we built our feature request forum! Feel free to vote for the idea and to add any comments to the idea that you think might help us understand why your bank needs the feature along with any proposed changes to the idea.