Payoffs and Renewals
When pricing a new opportunity that will pay off or renew one or more existing loans, it's important to capture the Payoff / Renewal amount in order to understand (and accurately reflect) your net funding needs.
You can choose existing active loans from the list (if your bank uses Relationship Awareness), or simply enter the information in the 'Payoff / Renewal' field in the loan tab.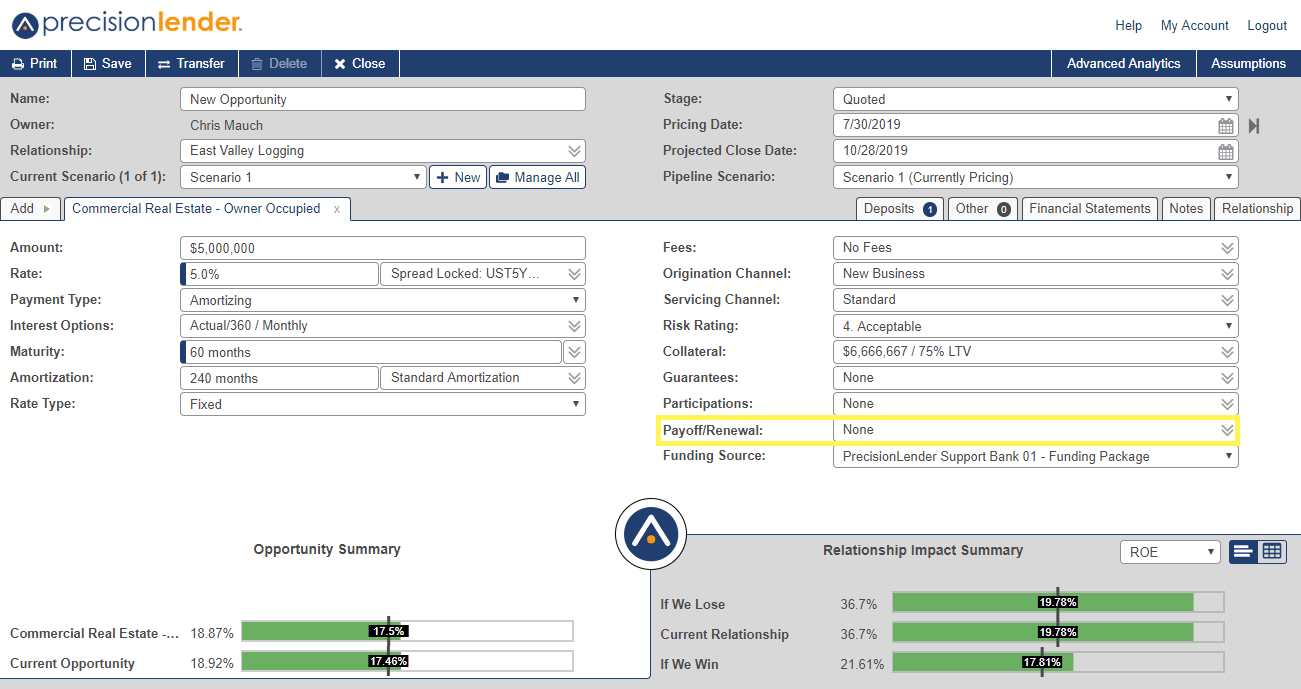 Notes
The Full Opportunity printout includes both a total Payoff / Renewal on the first page and the individual amounts on each loan page.
Conversion Loan Payoff/Renewal Amount
PrecisionLender automatically calculates the Payoff/Renewal amount for your conversion loan as the retained end balance of the primary loan. This value is not editable, but will reflect any changes you make to the construction loan's Draw Schedule or Participations.

See more on pricing conversion loans here: Pricing a Construction Loan that Converts to a Permanent Loan
Entering Payoffs/Renewals for Opportunities without a Relationship
If you do not have Relationship Awareness or have a relationship that does not exist in PrecisionLender, then you can enter the amount of the payoff and prior commitment.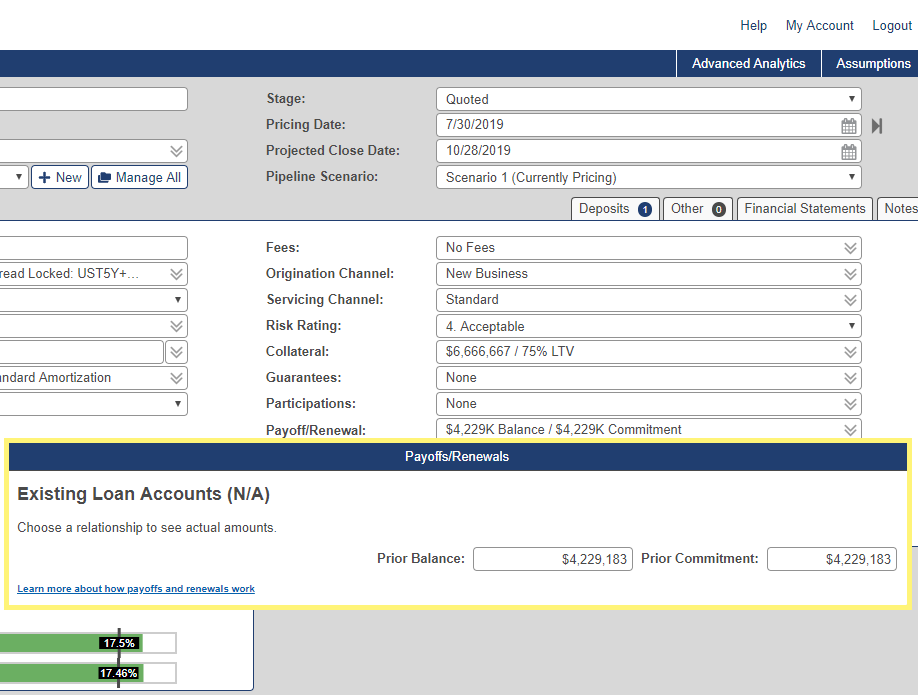 Entering Payoffs / Renewals with Relationship Awareness and Active accounts
This section only applies if you have the Relationship Awareness Module enabled (contact support to enable it)
When you associate your Opportunity with a Relationship with existing accounts, the Payoff / Renewal form expands to show you the open accounts that customer currently has. This allows you to indicate all or individual accounts that would be paid off by the account and see a summary of their Current (or for Lines of Credit, Average) balances to help determine the payoff amount.
If the customer has existing accounts with the same product type as the loan being priced, those accounts will be displayed first. You can toggle the 'Show' dropdown menu to view all of the existing loan accounts, or only certain products.

You can also indicate accounts that are at risk of being lost to competition, which will be reflected for the whole Opportunity and can be used to better understand the impact of winning or losing the deal. Loans that have been marked as at risk in the opportunity or that will be paid off by any loan in the pipeline scenario show that Payoff/At Risk status on the Relationship Tab.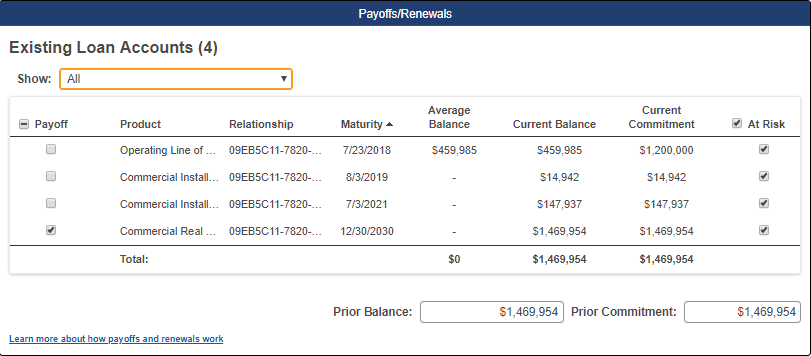 Payoffs/Renewals in the Opportunity Dashboard
The opportunity dashboard and opportunity dashboard exports have the ability to hide or show accounts with Payoffs/Renewals, allowing you to toggle between all production and pipeline opportunities or just the new business opportunities.