Have you ever noticed that when you click into the Initial Rate field you get a comment about the final rate being set at closing?
By default, PrecisionLender assumes that the customer will bear all interest rate risk until the Opportunity is closed. This reminder can be used to explain when and how the final rate will be determined.  In the example below, the rate will be set at closing to the 5-Year Treasury + a spread of 3.13%.  If the deal were to close today, the Initial Rate field tells us that the rate would be 5.06% in this example.

Some customers may prefer to have the bank assume all risk until closing.  You can click the Spread Lock field next to the Initial Rate Field to open the Spread Lock popup and and switch from a Spread Lock to "lock" the quoted rate in until the desired time has passed. Remember that you are adding more interest rate risk to the opportunity, so expect to see a negative impact to your return.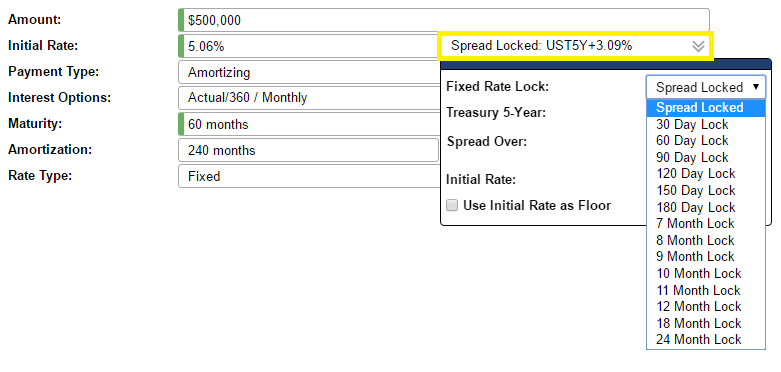 The Funding Curve Family being used for the initial rate spread lock is shown on the second line from the top of the Spread Lock popup.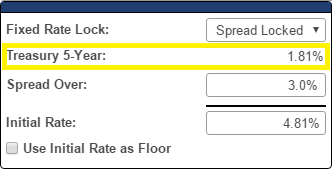 Note that Administrators set the Funding Curve Family for the initial rate spread lock in the Region Edit section, and can set a Fixed Rate Spread Lock Funding Curve Family that differs from the regional setting, if needed for certain product types, in the Commercial Loan Product setup screen.
Once you select a lock period, if you click into the Initial Rate field again, you'll see that the Spread Lock message has been replaced with a notice that the rate has been locked for a period of time.