The PrecisionLender Force.com LOS Integration allows you to seamlessly pass relevant pricing data to Force.com Loan Origination Systems, without the need to re-enter any information. 
Opening your Opportunity: 
You'll start by accessing a new or existing opportunity in the Force.com platform. Once in PrecisionLender, price your deal as you normally would. For help pricing commercial loans, please see the Pricing Commercial Loans support article. If you are having trouble getting over to PrecisionLender from your Force.com platform, please reach out to our support team at support@precisionlender.com.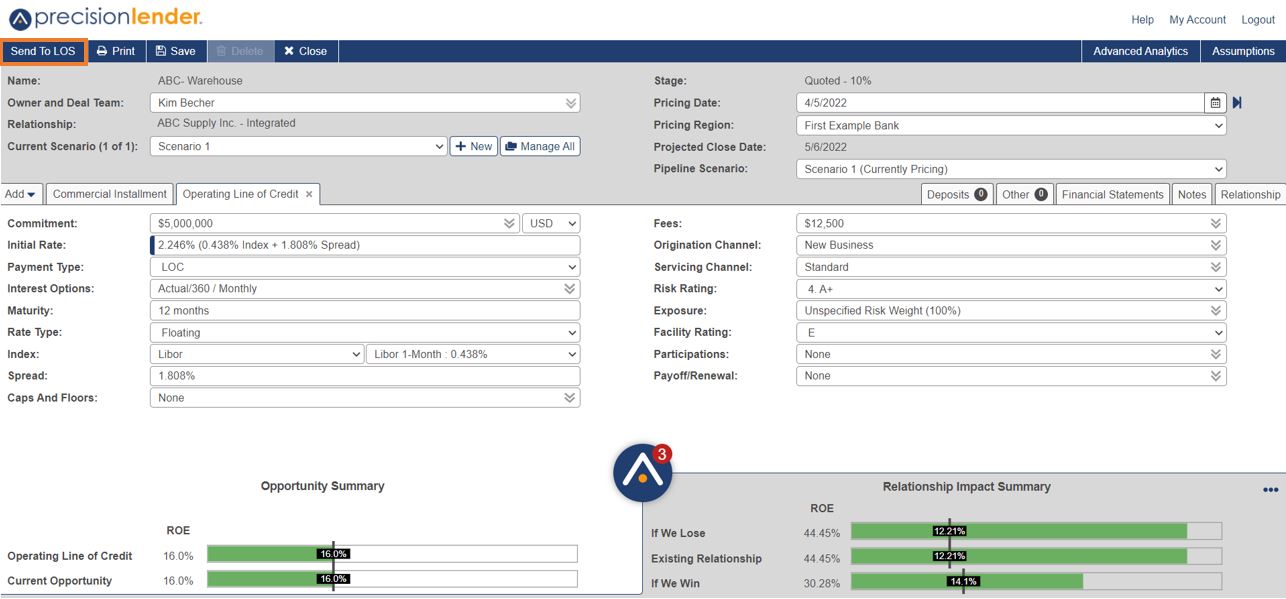 After clicking "Send to LOS", a new dialogue box will pop up allowing you to map your PrecisionLender loans to the right Loan Origination product.

New Deals: 
Once you've selected the right products for your new loans, simply click "Confirm and send to LOS" and the integration will send the configured financial information from the Pipeline Scenario into the loan origination system to create records based on the configuration defined in PrecisionLender (i.e. Deal Package, Loans).
Once the opportunity has been successfully passed into the loan origination system, you'll see another dialog box appear with a message saying the opportunity has been successfully sent to LOS. At this point your loans can now move through your origination workflow.
Repricing Existing Loans:
You can also make changes to a loan that has already been sent to the loan origination system. You can access your PrecisionLender Opportunity straight from your new loan(s) within the LOS. Once you have made the necessary changes to the existing opportunity, click "Update in LOS" and your origination loans will be updated with the new details from PrecisionLender.