In this article, we will cover:
What is a Deal Team?
Banks often have deals that require collaboration across regions and departments. The Deal Team feature allows multiple users to work on the same Opportunity. The Deal Team has a primary Relationship Manager who is the "Owner" of the deal. Other users are added as Deal Team "Members". Deal Teams give members earlier visibility into pricing and allow for more efficient collaboration between relationship managers, credit officers and management.
If this feature has been enabled for your bank, Deal Team permissions may need to be added to your security profile in order to use it. If you'd like this feature enabled, please reach out to your Client Success Manager or our Support team.
How do I add a User to an Opportunity Deal Team ?
If the Deal Team feature is enabled, the Owner field will appear as "Owner and Deal Team." In the Opportunity pricing screen, click the "Owner and Deal Team" field to open the Deal Team popup. The top section shows a list of users that are currently part of the Deal Team. Every deal team will belong to an "Owner". This users' home region will determine the Assumptions of the opportunity, unless your organization uses Alternate Pricing Regions.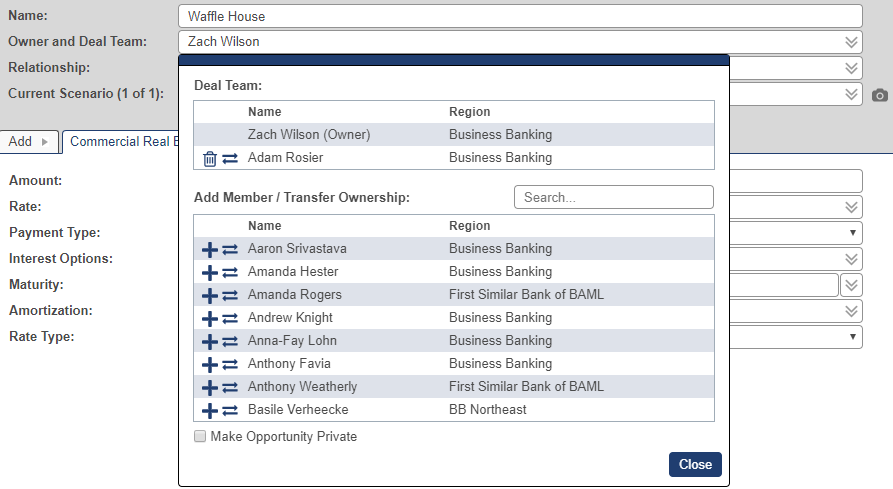 The bottom section of the popup will include an alphabetical list of lenders that could be added to the Deal Team. This list is not complete so if you can't find a lender in the list, search for their name using the Search box in the top right corner. Any user in a home region that is visible to the Opportunity owner can be added to the Deal Team.
To add a user to a Deal Team, click the

icon next to the users name. Their name will be added to the list of Deal Team members at the top of the popup. (Note: users will need the appropriate Security Profile permissions to view or edit Deal Team opportunities)
How do I transfer a Deal Team Opportunity?
You can transfer a Deal Team Opportunity by selecting the

next to the user's name in the Deal Team popup. You'll be able to transfer your opportunity to any user from one of your "Visible Regions" as long as they have the "Create and Own" security profile right for opportunities.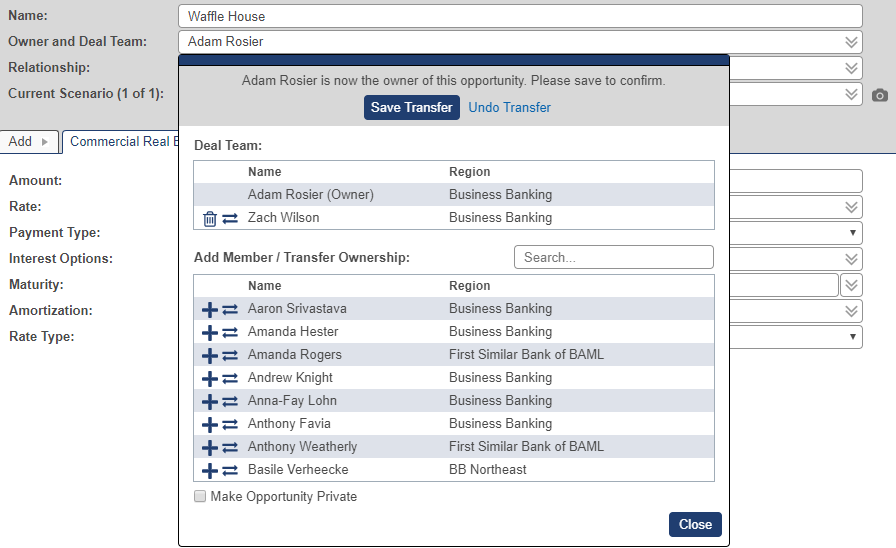 A banner will appear at the top of the popup prompting you to confirm your transfer. Click "Save Transfer" to transfer the Deal Team to a new owner. If you'd like to undo the transfer, click "Undo Transfer." Transferring an opportunity to another user will update the home region and pricing region of the opportunity to the new opportunity owner's home region, updating the Opportunity's assumption set.
Please note that if you are using a Customer Relationship Management (CRM) tool, the deal team created from PrecisionLender will not be sent into the CRM tool. Only the primary "Owner" will be associated with the Opportunity.