In this Article: 
What is an Alternate Pricing Region?
The Alternate Pricing Regions feature allows Relationship Managers to easily price a deal or a loan in another region. For users that are re-assigned to a different region or work on cross-regional deals, Alternate Pricing Regions allow for more accurate pricing by utilizing the most relevant regional assumptions. For users with Administrative rights, Alternate Pricing Regions can be a useful tool for testing assumption updates in a "Test" region prior to implementing changes in the Home Region.
If this feature has been enabled for your bank, Alternate Pricing Region permissions will need to be added to your security profile in order to use it. If you'd like this feature enabled, please reach out to your Client Success Manager or our Support team. 
What alternate regions can I price in?
If Alternate Pricing Regions is enabled, the Opportunity screen will show a new field called "Pricing Region." This will be set to a user's home region by default. The regions available in the dropdown menu are determined by the "Visible Regions" setting in the users' Security Profile. Only the users' Visible Regions will be available to select for pricing.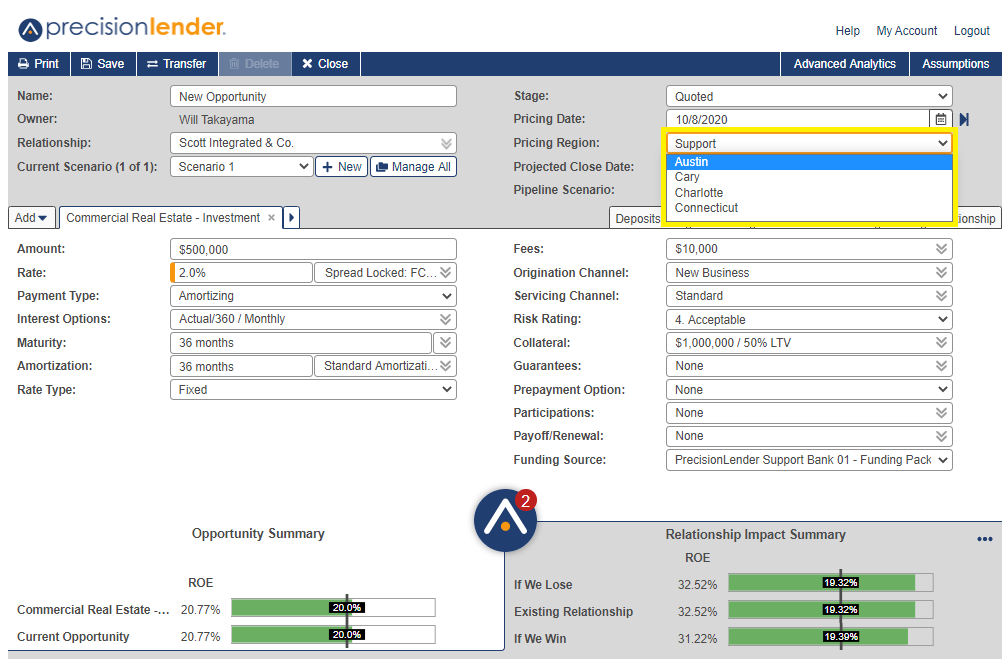 Once the region is changed, a confirmation dialog will appear asking you to confirm whether or not you want to update the pricing region. After selecting 'Confirm', the underlying product assumptions will update to reflect the new pricing region. 
Please note that if you are using a Customer Relationship Management (CRM) tool, the Opportunity's pricing region will not be sent into the CRM tool.