Market Insights offers actionable and achievable recommendations in Andi for the loans you price against your current market. This allows for more informed decisions, quicker turnarounds, and improved profitability. In this article, we'll dive deep into how Market Insights is defined in your market as well as Market Insights in Andi.
Note
Market Insights is a premium service for clients. If you are interested in adding Market Insights for your organization, please reach out to our support team at support@precisionlender.com.
In this Article
How does Market Insights work?
With access to loan information from over 150 banks and more than 15% of all Commercial loans in the United States, PrecisionLender is in a unique position to deliver actionable, realistic guidance - not just market "averages" - through Market Insights.
Using the Relationship Awareness data from these banks, Market Insights learns the optimal market segmentations and relevant loan attributes for pricing spreads by looking at past data. It then applies those segmentations according to a new loan's attributes to determine its position in the market. This allows the model to continuously improve as we gather even more data.
What is Andi telling me?
Andi offers a suggestion for a rate/spread change to move you up in your market. This suggestion is based on how the current loan you are pricing compares with the market.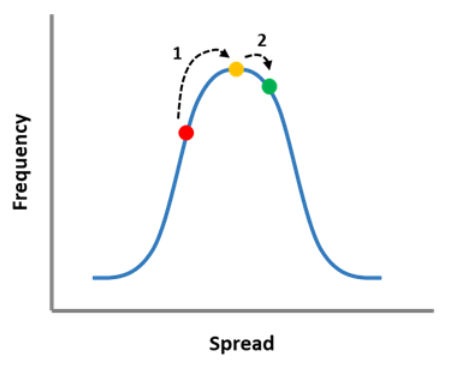 In the diagram shown above, the blue curve is the distribution of spreads for the market of the loan you are pricing based on its unique characteristics. If the red marker is your current spread, Andi's first suggestion will be to increase the spread to the value at the yellow marker. This suggestion provides an achievable change in spread. From there, Andi will continue to keep you informed of your pricing relative to the market, next suggesting an increase in spread to move to the green marker.
Andi is also able to show you a visual representation of where the opportunity fits relative to the overall market.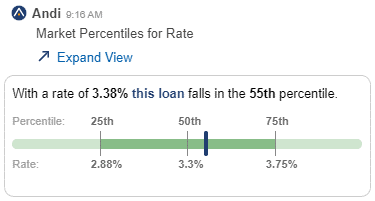 Andi will only offer you a suggestion if there is enough relevant market data and you are below the top quartile of the market.