Market Insights offers actionable and achievable recommendations in Andi for the loans you price against your current market. This allows for more informed decisions, quicker turnarounds, and improved profitability. In this article, we'll dive deep into how Market Insights is defined in your market as well as Market Insights in Andi.
Note
Market Insights is a premium service for clients. If you are interested in adding Market Insights for your organization, please reach out to our support team at support@precisionlender.com.
In this Article
How does Market Insights define my market?
With access to loan information from over 200 banks in the United States, PrecisionLender is in an extremely unique position.
Using the Relationship Awareness data from these banks, we analyze the performance of each Product Type (CRE, LOC, Term, etc.), and create Performance Markets for each product type by looking at the ROE. These product type markets based on ROE are categorized as High Performance, Medium Performance, and Low Performance product markets. This gives us our base dataset for comparison.
We then take each product and each region from your bank, look at the performance of that product and region by ROE, and then map them to the Market Insights Performance Markets.
The market in your region may be High Performing CRE, Medium Performing for Construction, and Low Performing for LOC. This combination of Market Insights Performance Markets matches the unique characteristics of your market, and brings an enormous amount of valuable information from the installed base of PrecisionLender to present you with actionable insights.
How does Market Insights compare my loans to my market?
Market Insights uses the information you've entered on the loan you are pricing (Product Type, Amount, Risk Rating, Index, Term, etc.) and compares it to the distribution of rate/spread for the selected performance market. The coaching provided shows how your loan compares to your unique market and offers a suggestion to move up in your market (if there are sufficient results and you are below the top quarter of the market in pricing).
What is Andi telling me?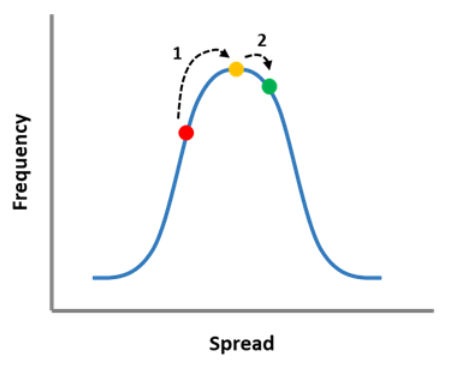 Andi offers a suggestion for a rate/spread change to move you up in your market. This suggestion is based on how the current loan you are pricing compares with loans in your Product-Performance market.
Note
The Rate Type on the loan product must be
Fixed
or
Floating
in order for this skill to work.
In the diagram shown above, if the unique characteristics of the loan you are pricing is at the red marker on the distribution of spreads for your market, Andi's first suggestion will be to increase the spread to the value at the yellow marker. This suggestion provides an achievable change in spread. From there, Andi will continue to keep you informed of your pricing relative to the market, next suggesting to move to the green marker.
Andi is able to offer achievable recommendations as you are pricing deals based on accurate, up-to-date market data.
Andi will only offer you a suggestion if there are over 30 comparable loans and if you are below the top quarter of the market.