If nothing happens when you click print, your browser may be configured to block all pop-up windows. Please review this article on how to enable pop-ups.
Disable Adobe Reader in Internet Explorer
Often, Internet Explorer has an add-on that opens PDFs inside of Internet Explorer.  This can cause a number of issues, including inability to save or resize the PDFs.  The easiest solution is to disable this add-on so that the PDFs will be opened in your computers main PDF viewer, instead of in Internet Explorer.
Steps
In Internet Explorer click on the Tools menu and select Manage add-ons. (If you do not see the toolbar, press ALT on your keyboard)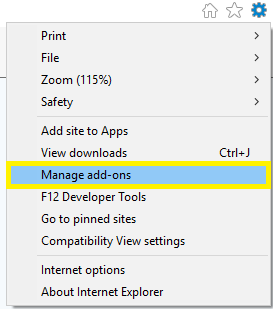 Inside the Manage add-ons popup:
Make sure that the Show filter is set to All add-ons
Find the Adobe PDF Reader add-on and click on it.
Then click the Disable button
Close the window and all Internet Explorer windows that are open and then relaunch Internet Explorer.
Printouts should now open in your desktop PDF viewer